The building blocks of health care confidence
Fidelity's Health Care Engagement Framework gives employers the power to align their benefits to their workforce
HEALTH SOLUTIONS THOUGHT LEADERSHIP - 09/08/2020
Fidelity believes confidence is key to consumers being motivated to and capable of managing their health. But how can we help people build confidence? Employers are positioned to influence how well people engage in all aspect of their health care through culture, policies, benefits, and services. With the right level of support, people can learn how to make better health decisions with confidence, leading to a greater likelihood of financial security.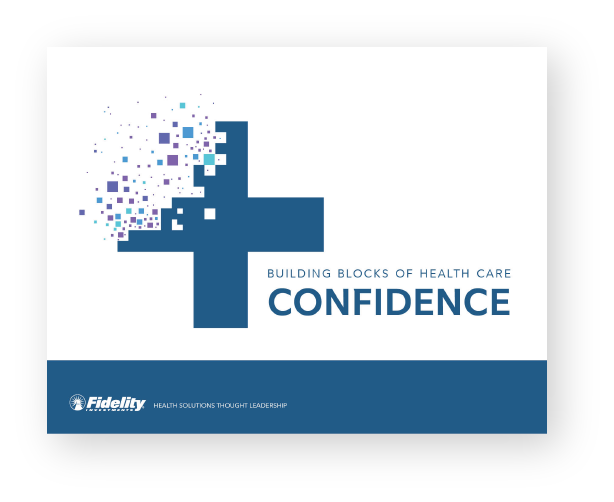 To this end, Fidelity has developed a Health Care Engagement Framework that includes five dimensions across the health care experience: Health Status, Healthy Behaviors, Preventive Care & Treatment, Cost & Quality of Care, and Planning for the Future.
Our model is grounded in leading academic theories and has been validated by a survey of more than 5,000 respondents with representative samples across age, gender, race/ethnicity, income, and education.
Our findings indicate:
Four dimensions significantly impact confidence in health care decisions, with Cost & Quality of Care and Planning for the Future mattering the most. 
These dimensions are highly interrelated, so that improvements in one dimension may create improvements in others.
The framework is consistent across key demographic variables (age, gender, race/ethnicity, income, and education); however, we see substantial variation in how different subgroups are performing in each dimension.
Consumers fall into five categories based on how they engage with their health care, ranging from people who struggle across all dimensions to those who do well across the board. Neither age nor chronic illness drives where someone might fall on this spectrum.
Our approach offers employers deep insights into the challenges their employees face around health care. The framework enables data-driven decisions about how and where employers can intervene to help improve confidence in their employees. By applying this framework, employers can assess the greatest needs of their workforce and understand how to allocate their resources in the most meaningful way—all with the goal of helping employees build health care confidence to achieve a greater sense of financial security.